It Just Might Work
The YouTube thumbnail for the film

Information

Directed by
Tyler Pilkinton
Written by
Tyler Pilkinton

Rahul Srinivasan

Produced by
Charles Berlin

Thomas Foster

Starring
Tyler Pilkinton

Xander Ray Clinton Taylor Benjamin Liggett Walter White Quinn Mulroy

Music by
Cindy Pilkinton

Kevin MacLeod (additional music)

Cinematography by
Richard Murray
Edited by
Tyler Pilkinton
Production company
Orange River Productions

Marvin Inc. CJStudio1000

Distributed by
Orange River Productions
Released
September 5, 2014
Genre
Comedy

Mockumentary Satire

Budget
$1500
Length
1:24:19
It Just Might Work is a 2014 comedy film which inspired the Videos About Deep Stuff series. It was directed by Tyler Pilkinton, who wrote the screenplay with Richard Murray, Xander Ray, and Rahul Srinivasan. It was produced by Charles Berlin and Thomas Foster. The film stars Pilkinton as himself, along with Ray, Clinton Taylor, Benjamin Liggett, Walter White, and Quinn Mulroy.
The film, a mockumentary, features Tyler and his friends deciding to make YouTube skits. This grabs the attention of Clinton, an amateur stop-motion animator, who challenges Tyler to a duel to see who is more popular. Principal photography for It Just Might Work began in February 2014 and lasted for three months. Second unit photography took place in the summer and lasted until August. The film was released on September 5, 2014 on Pilkinton's YouTube channel, Anim8orkid.
At 84 minutes long, It Just Might Work has racked up nearly 1000 views and as of April 2018 is one of Anim8orkid's top 35 most popular videos.
On a regular school day, Tyler and his friend Xander converse as they head to their lockers after the bell rings. The two are intercepted by their friend Clinton, whom Xander inadvertently offends. The two are then intercepted by Liggett, another friend, with whom Tyler chats until he reaches his next class. Tyler is greeted by a freshman named Tariq, whom Tyler ignores to go talk to Liggett. In a fit of rage, Tariq flips one of Tyler's textbooks off his desk.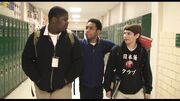 After the bell rings again, Tyler's Japanese teacher enters the room and asks Tyler to perform the duties of classroom leader (or nitchoku-san). The teacher then delivers an aside in which he talks about his frustrations with his students. Afterwards, Daniel, another freshman, tries to grab Walter's notebook, which is filled with graphic short stories. The guys then discuss their interactions with Walter in a series of asides.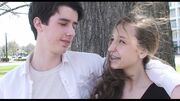 Later in the day, Tyler is bombarded with requests by his classmates to store their artwork in his portfolio. He then walks across campus with Liggett, Clinton, Walter, and Michael to meet Quinn, a "hopeless romantic", and Becca, his girlfriend. The next day, Tyler and Quinn criticize Walter for drinking hot chocolate from a thermos with a spoon. The conversation is interrupted when their etymology teacher enters the room and gives them a quiz, on which Tyler and Quinn cheat.
The next period, Tyler is annoyed by a loser named Richard, who also bullies Lily, a girl in their class. Richard asks Tyler for a "cool name", to which Tyler replies, "Augustus Clearwater". In an aside, Tyler explains that the name is a variation of the name of the male lead from John Green's The Fault in Our Stars. Xander then calls Richard out for stealing the idea for his story. Richard claims innocence, asking Tyler to sign a piece of paper as a witness. Richard notices that Tyler's signature looks similar to Lily's.
At lunch, Clinton shares an idea for a skit with the gang, prompting Tyler to suggest that they all work on a skit together. The group is then bombarded by a food fight from which they must escape. After lunch, Tyler watches Xander write an English paper on the short story "By the Waters of Babylon", which Xander mispronounces as "Babylion". At home, Tyler tells his mother that he plans to "suit up" with Quinn the following Tuesday.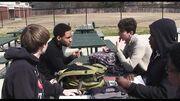 Tyler shows up to school in a gray sports jacket with black pants. After walking into his first class, he talks to Walter, who has a plastic bag containing a hair from his girlfriend. In the next class, Tyler meets up with Quinn. The two are questioned about their "suit-up" by DeAndria and the Etymology teacher. The next period, Tyler is asked a similar question by Mr. Richardson and Xander. Richard then tries to convince Tyler to quit making skits, at which Tyler scoffs.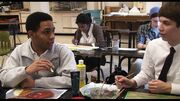 In art class, Tyler and Clinton discuss the scientific prediction that race will disappear in the future. Tyler tells Clinton about his observations of racial ambiguity, to which Clinton responds by voicing his condolences for the Caucasian race. Jesse accuses the two of engaging in racist conversation, which Tyler combats. After the bell rings, Xander walks in the room and is invited by Tyler to make a skit. During spring break, Tyler video chats with Liggett and asks him if they can use his house for filming, to which Liggett agrees. A few days later, Tyler goes to Liggett's house and watches him play two pinball machines at once while they wait for the others. Tyler answers the door and welcomes Xander, who complains about the heat. After Quinn arrives, Xander challenges him to a game of pinball.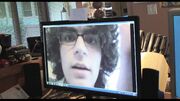 Afterwards, the four begin planning their skit. They start off by recreating William Shakespeare's Romeo & Juliet, but they soon abandon it in favor of an original skit in which Tyler and Liggett squirt Quinn with water guns. After stopping to scold Quinn for being incompetent, the four retreat to Liggett's room, where they edit and upload the video to a new channel: Augustus Clearwater.
When Tyler returns to school, he finds that the skit has been well received by his friends. He also learns that Quinn and Becca have broken up and recruits Walter to help comfort him. Their plan backfires when Tyler accidentally reveals that DeAndria told him about the breakup, but things are smoothed out when their friend Cole joins Tyler to comfort Quinn. In chemistry, Richard, jealous of Tyler's new found popularity, asks him if he can be in a skit.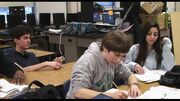 In Japanese, Tyler learns that Walter and his girlfriend have made progress in their relationship but is taken aback when he sees Walter using an encyclopedia as a reference for drawing private parts. In art, Jesse messes with Tyler by repeatedly throwing objects at the back of his head. Tyler apologizes to Clinton about forgetting to invite him to help make the skit; in an aside, Clinton reveals his plan to take Tyler down and destroy his channel's popularity.
Act Three
Edit
A week later, at lunch, Walter and Michael watch one of Tyler's skits on Walter's laptop. Clinton passes by, and Tyler goes to talk to him. Clinton lies to Tyler about his channel's status to gain Tyler's sympathy, which is secured when Tyler promises to promote Clinton on Augustus Clearwater. That evening, Tyler receives a video message from Clinton stating his plan to defeat Augustus Clearwater.
The next day, Tyler confronts Clinton, who begins to express psychotic behavior. Tyler runs from Clinton and meets up with Richard, with whom he encounters two of his friends as they walk through the halls. Richard manages to creep out both of them. Richard follows Tyler upstairs and begs Tyler to make a skit with him, which Tyler continually shoots down. Tyler enters his first period class and tells Walter abut his encounters with Clinton and Richard.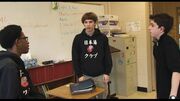 In chemistry, Lily asks Tyler if Clinton threatened him. Richard tells Lily to shut up, which causes them to argue and eventually begin fighting each other. Mr. Richardson breaks them up, but not before Lily can slap Richard across the face. After class, Tyler tells Walter about the incident as well as his plan to defeat Clinton once and for all. The tension between Tyler and Clinton continues to build as the two begin arguing in art class. Jesse suggests that the two battle it out in a video contest.
In a montage, the creators of Augustus Clearwater and their allies post fliers around the school advertising the contest. After Tyler and his friends have visited every corner of the campus, Jesse begins to sabotage the plan by taking down the fliers. Near the end of the school year, Tyler and Clinton confront each other one more time outside the cafeteria. Richard, playing Mexican standoff music on a guitar, reveals that he and Clinton were working together all along. Jesse jumps in and reveals that he was a double agent as well. After Liggett points out how ridiculous the entire contest is, Tyler declares a truce and shakes hands with Clinton.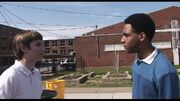 Epilogue
Edit
One month later, in the middle of summer vacation, Tyler house sits for his neighbor and reflects on the events of the past few months. Elsewhere, Liggett brags about the plaque he received at a pinball tournament. Xander delivers an aside about his job at Kroger. Finally, Clinton plays an online role playing game and meets a princess, revealed to be Walter.
Supporting cast and cameos
Edit
Henry Baldwin as Henry
Rebecca Davis as Becca
Thomas Foster as Japanese teacher
Jesse Graves as Jesse
Michael Hart as Michael ("Guy")
Cole May as Cole
DeAndria Meredith as DeAndria
Richard Murray as Richard
My Nguyen as My
Lily Petrosyan as Lily
Barry Pilkinton as Tyler's dad (deleted scene)
Cindy Pilkinton as Tyler's mom
Itthipoaln Rasasack as Itthipoaln
George Richardson as Mr. Richardson
Christopher Robbins as Etymology teacher
Tariq Thompson as Tariq
Sri Velrajan as Sri
Bayley Whitehouse as Girl in hallway
Sandra Whittington as English teacher
Rebecca Williamson as Tyler's aunt
Crawford Wilson as Crawford
Daniel Xi as Daniel
Production
Edit
Development
Edit
Development for It Just Might Work, according to director Tyler Pilkinton, began in 2011 as a planned follow-up to his 2010 film Redemption. J.H. Alexander, who played a Secret Service agent in the film, suggested that Pilkinton make a spoof. Pilkinton looked to Monty Python and the works of Christopher Guest for inspiration. In summer 2013, after starting a vlog with Rahul Srinivasan, Pilkinton conceived the storyline for the film while visiting the first location featured in the epilogue of It Just Might Work.
Pilkinton wrote a treatment in July, which was very different from the final version of the movie. It included elements such as the characters making a movie instead of YouTube skits and Tyler's character having a Scottish accent. "I studied methods for improving my accent, even playing around with Irish inflections to give my character a more unique style of speech. Ultimately, though, I scrapped the idea due to a general consensus among the cast and crew that the accent would be a giant disaster."
The treatment was eventually turned into a screenplay, which was completed in December 2013. Pilkinton brought on Srinivasan, as well as Xander Ray and director of photography Richard Murray, to work on the final draft of the script, which was completed in early February 2014.
As part of the development of It Just Might Work, Pilkinton wanted to make actual YouTube skits in preparation for the skits which would be featured in the film. Murray found out about this idea through word-of-mouth and asked Pilkinton if he could help make the skits. Pilkinton agreed, and the two were joined by Benjamin Liggett at Murray's house, where they made Chairs, Music, and Dance. This was the birth of the Videos About Deep Stuff series.
Xander Ray was among the first to be cast in the film, followed by Benjamin Liggett and Walter White. Rahul Srinivasan was originally cast as the hopeless romantic character, though due to scheduling issues, he was forced to drop out of the film. He was replaced by Quinn Mulroy, and the character's name in the script was changed from Rahul to Quinn.
Pilkinton knew that he would play the main character, whom he modeled after himself. He eventually realized that it would be funny if the majority of the characters maintained their real-life personalities. He cast most of the actors in this manner, although there were some exceptions, such as Quinn's character, Thomas Foster as the Japanese teacher, Richard Murray as Richard, and Clinton Taylor's character towards the third act of the film. "Everyone else pretty much played themselves," Pilkinton said.
Clinton Taylor was among the last main characters to be cast. Pilkinton wrote the part of the antagonist specifically for him. "I intended for Clinton's stop-motion skits to be more heavily featured in the film, specifically in the montage," Pilkinton said. Taylor was approached for the part a few weeks before filming. "Thankfully, he said yes," Pilkinton reflects. "I don't know what I would have done if he couldn't have played the bad guy."
The role of Quinn's girlfriend (referred to in the script simply as "Girl" and later referred to as "Antoinette") was cast more than halfway through production by Quinn Mulroy. He was simply asked by the director to find someone Mulroy thought was fit to play her, so he got Rebecca Davis.
Cole May was not initially part of the production team but was invited to the set one day by Richard Murray. May eventually joined the cast, filling in for the part that Rahul Srinivasan was supposed to play in the final draft of the script.
Evan Patrick was scripted to make a cameo appearance in the film, although he had to drop out due to scheduling issues. Patrick's character was described as a "stereotypical nerd".
DeAndria Meredith, who appeared in Redemption as an interrogator for the FBI, made a couple cameos in the film.
Tyler Pilkinton spent half of his life's savings on the camera used for the film, which was a used Sony HVR-HD1000. The camera was purchased on eBay for $550. Filming was supposed to start on February 25, 2014, but a sound problem caused by the camera's AC adapter rendered the footage useless. However, first unit shooting officially commenced on February 28.
The filming schedule was interrupted by a string of snow days, which pushed filming back three days and invalidated the shooting schedule Pilkinton had devised. Subsequent scenes were planned only five days in advance due to the unpredictability of the actors' schedules. The first scene of the film took four days to shoot and was spread out over a whole month.
Second unit production began at Pilkinton Studios on April 18 and ran parallel to first unit filming for three weeks. Due to scheduling issues, both units actually continued filming through July, although official production schedules will note that Unit One ended on May 20, 2014.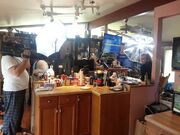 Clinton Taylor, Cole May, and Tyler Pilkinton served as second, third, and fourth assistant cameraman, respectively; however, they were not credited.
The food fight scene originally featured one cream cake being thrown almost outside the frame, so director Tyler Pilkinton filmed a cream cake being thrown at several different angles in front of a green screen and edited them into the film (also replicating the sound effect), making the food fight appear more intense.
It Just Might Work is also Pilkinton's first film since Tsunami to be storyboarded. Pilkinton teamed up with Murray to knock out a shooting storyboard whose primary purpose was to help them visualize the cinematography of the film. Pilkinton also created another storyboard to serve as a "comic-like" version of the film with the intent of creating a storyreel.
Pilkinton and Murray wrote an application for the film using the Visual Basic programming language to simulate the Facebook Messenger app for the scene when Tyler schedules the skit at Liggett's house. However, the two thought it would be easier to just have Liggett talk to Tyler via video (similar to Skype).
Pilkinton and Murray considered a variety of musical styles for the montage near the end of Act III. Pilkinton originally envisioned a guitar ensemble and considered writing an original song. The created an a capella hip hop score for the scene, eventually titling the piece "Tyler Montage". The song and scene were originally seven and a half minutes long, but both were cut down to a length of five and a half minutes. However, in a test screening, "Tyler Montage" was poorly received, so the two decided to start from scratch. They originally intended to produce a rock song with real instruments in a style similar to Rocky Balboa's theme song, "Gonna Fly Now", but this never came to fruition.
Cindy Pilkinton eventually replaced Murray last-minute as lead composer of the film.
Jesse Graves
was originally slated to be the composer and was even asked to write a song for the montage, but Cindy Pilkinton composed and performed an instrumental track for the scene entitled "Safety Protocol". Pilkinton also scored the beginning and end credits sequences for the film.
The film features some royalty-free tracks by Kevin MacLeod, courtesy of his website Incompetech.com, during the skit filmed at Liggett's house. MacLeod's music has widely been used in several small productions, including Augustus Clearwater skits and even the official trailer for the film.
Deleted Scenes
Edit
One of the deleted scenes, originally taking place 15 minutes into the film, features Tyler waking up, eating his breakfast, brushing his teeth, dressing, etc. The scene was included, along with other yet-to-be-deleted scenes, in an early screening of the film for the crew. Co-executive producer Barry Pilkinton concluded that the "morning routine" was unnecessary as it broke up the flow of the film. Co-executive producer Cindy Pilkinton later added that the first and second acts largely focus on "the team", rather than just Tyler himself, who is not evidenced as the clear protagonist until the conflict accelerates.
Another deleted scene features Tyler, Liggett, Clinton, and Walter walking down the campus talking about making videos. The group then approaches Quinn and Becca as they sit under the tree. Then, the four continue walking and discuss their weekend plans, and Walter first reveals that he is going to the mall with Faith. Pilkinton storyboarded the scene and even uploaded a video on Anim8orkid showing him recording voiceovers. Pilkinton later rewrote the scene to include only Liggett, Tyler, Quinn, and Becca and relocated the filming venue to Overton Park, but due to scheduling issues, the scene was never shot.
The scene in which Tyler, Quinn, Liggett, and Xander are about to upload the skit they just made on YouTube was originally longer, containing extended references to The Fault in Our Stars and a debate about the merits of Microsoft versus Apple, a reference to a vlog on one of Pilkinton's other channels, TheProjectForAwesome.
Most of the deleted scenes are featured in a playlist on Anim8orkid.
The film was released on September 5, 2014 on Anim8orkid.
Marketing
Edit
The production garnered the attention of White Station High School's newspaper,
The Scroll
, which interviewed two crewmembers during Unit One filming: director Pilkinton was interviewed twice, and producer Charles Berlin was interviewed once.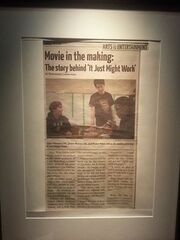 A 58-second clip from the film was shown in an April 3, 2014 vlog on Anim8orkid. The clip featured Tyler and Walter sitting at their desks and Tyler pointing out Walter's thermos full of hot chocolate, which Walter was eating with a spoon. An official 97-second sneak peek was uploaded on April 12 and featured Quinn introducing the guys to his girlfriend. Pilkinton uploaded two more sneak peeks on April 26 and May 10 until stating in a vlog that he would stop uploading them in the interest of letting his audience wait for a trailer instead, which was uploaded on June 22, 2014.
Pilkinton posted screenshots from the final film every ten days beginning on March 20, 2014 up to the release date.
Near the end of Unit One filming, the cast and crew made a music video to Pharrell's "Happy" featuring some behind-the-scenes clips as well as original clips to the beat of the song. The video was included as part of a special features playlist on YouTube. Quinn is the only main character not to appear in the video (with the exception of movie clips), and a few minor characters are not featured either. The video was shot over five days between May 8 and May 17, 2014.
In late 2014, Pilkinton, Murray, and Ray recorded a rap battle that made several references to the events of the film as well as its production. Murray ultimately did not appear in the final version of the video and was portrayed by Pilkinton. The video was posted on November 2, 2014, the one-year anniversary of the creation of the Augustus Clearwater YouTube channel. Part of a series called Epic Rap Battles of White Station, a sequel, "Clinton vs. Walter", was released on February 1, 2015. A third battle featuring characters who had not appeared in the movie was released on May 3, 2015. Pilkinton stated in a vlog on Anim8orkid that two other battles had been in development but had been shelved. However, the third battle was followed by three other episodes released between August 2015 and February 2016.
Awards and honors
Edit
Year
Group
Award
Nominee(s)
Result
2015
Scholastics Art & Writing
Film & Animation
Tyler Pilkinton
Won (2nd place)
West Tennesse Regional Student Art Exhibition
Film & Animation
Tyler Pilkinton
Nominated
Community content is available under
CC-BY-SA
unless otherwise noted.